January 2013
Is 2013 the "Year of Mobile" for your practice?

It could be said that 2012 was "the year of mobile." Did you know that the U.S. has the second highest number of mobile subscribers in the world? With statistics like this, you can no longer ignore mobile viewers of your website as we head into 2013 - including the new movement towards tablets. Statistics are starting to show that tablets are now replacing PCs in many households. The movement towards mobile and tablet usage shows the urgency in ensuring your practice website is compatible with these devices.
Web use is growing year over year. 2012 was no exception. It is important to realize that this general growth is boosted by an impressive growth in mobile usage. 48% of mobile subscribers have web connectivity at their fingertips. Consumers routinely check emails, social networks, download and watch videos, and make purchases from their mobile devices.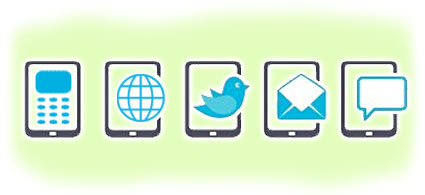 A
survey
of 1000+ marketers showed that attention is being turned more to email, social and mobile marketing for 2013, with reduced spending in direct mail and events. If your practice is venturing into a mobile presence and/or marketing for the first time, educate yourself so you are in a position to make the right decision for your business.
The main goal of having a mobile compatible website is to provide a pleasant viewing experience for your patients with useful information that is easy to find. The main goal of mobile marketing is to message patients in a timely and appropriate way on their phones. Many of your patients get SMS text, email, and social media messages all on their smart phones. Sending the same message using all three avenues may be counter productive. Send your messages wisely. For example, SMS text is a great way to send appointment confirmations. Email and social media may be the best ways to send a promotional message. SMS text messages can compliment email to reach a higher percentage of your patients.
Mobile marketing is about engagement and reach. Some practices compliment with mixed marketing ideas and a social media campaign. Consistency, commitment and unique offers are the keys to success. It is imperative that your mobile marketing campaign is continuously being reviewed and refined so you have engaging interaction with your clients. Mobile marketing costs vary. However, with some research, mobile marketing can fit into every budget.
Need Ideas to get started? Contact Hannah today to discuss possible ways to promote your practice.