November 2012
Can Pictures be a Valuable Tool in Promoting Your Practice?

A picture can speak a thousand words. It is no wonder that photo sharing online communities are growing at a rapid pace. Taking photos and sharing them on websites such as Facebook, Pinterest and Instagram are standard activities these days. So, is it worth adding a photo-sharing website, such as Pinterest, to your social media campaign? It may well be.
Pinterest is a virtual pinboard and it lets you organize and share information and images, from the web, that are of interest to you. Using Pinterest would need to be tackled a little differently when used by a dental practice as you are providing a service and not selling a product. Though with 17 million users and growing, it is probably worth considering and reviewing Pinterest to see if it is right for you.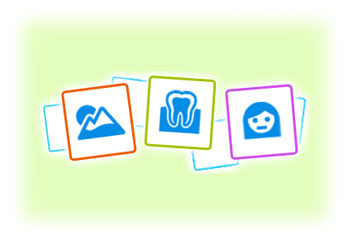 One option would be to begin by pinning images related to your business and services. Remember that the benefit of each image is that it will have a direct link to the original source so start by pinning images directly from your website. First "pin" pictures of your practice, inside and out. Create a board that presents your Before and After images. Share images of new technology that you are using in the practice. By doing this, interested viewers will be encouraged to visit your website to learn more about the services you offer.
Another option would be to use Pinterest as a "vision board" for you business ideas. Are you thinking about remodeling the practice - then pin your ideas. Instead of your list of ideas collecting dust on a piece of paper in the drawer, create a board with some visual ideas. Create specific goals. Do you want to offer a specialized area of care in the future? Pin useful informationto your patients and images of the new technology and think about how you are going to market this new specific service. Then open your business visions to your consumers. Involve them and engage. For example, if you have envisioned for your practice to be paperless then reach out to the public and request for them to share ways they have "greened" their lifestyle.
Remember that Pinterest is a social network so make sure you are social! It is important to motivate people to share your content to drive traffic to your website. Make sure you follow your patients and other accounts and form a community around your brand. Make sure you are sharing information and commenting regularly. Your patients are increasingly engaged in social media, on what platform or another, so it is good to reach out and to be available in more places online.
Need Ideas to get started? Contact Hannah today to discuss possible ways to promote your practice through your web site and social media.